The Ocean Strategies Fisheries Policy Report provides timely policy and industry updates that connect America's sustainable seafood supply chain — including grocers, restaurants, distributors, transportation and the many other businesses that depend upon seafood access.
Not already signed-up? Receive future updates by signing up.
WHAT WE'RE WATCHING IN FEDERAL FISHERIES POLICY

Equity in U.S. Fisheries: Starting at Sea Level
NOAA's comment deadline for the draft Equity and Environmental Justice Strategy has been extended to September 30, 2022
With the ocean increasingly viewed as a frontier for economic development, equity concerns are also growing. Equity implications for small-scale fishermen, Indigenous peoples, women, and other minority groups demonstrate disproportionate harm and inequitable distribution of benefits across global fisheries. The industrialization and globalization of fisheries have resulted in management practices that prioritize economic profit over traditional livelihoods and cultures, and climate change increasingly impacts communities disproportionately.
Ocean Strategies has been working to understand and identify these equity issues within U.S. fisheries. Our latest Ocean Pulse blog, Equity in U.S. Fisheries: Starting at Sea Level, explores how we are encouraging conversations and actions that expand the commercial fishing workforce, diversify the industry and the beneficiaries of its success, and lay the groundwork for policies that can help commercial fishing fleets and communities thrive. Be sure to download our accompanying fact sheet: Equity in U.S. Fisheries.
In May 2022, NOAA Fisheries released its new Draft Equity and Environmental Justice Strategy (EEJ), a national plan that incorporates equity and environmental justice priorities into the agency's national programs. The intent of the strategy is to provide more equitable stewardship of the nation's marine resources and ocean ecosystems by better responding to the needs of underserved communities.
Industry stakeholders still have an opportunity to offer feedback on NOAA's EEJ Strategy. The comment period has now been extended to Friday, September 30, 2022.
The Marine Fisheries Advisory Committee (MAFAC) has weighed in on NOAA's draft EEJ. The committee's comments can be found here.
There are many ways to begin to address inequity. Here are a few suggestions to serve as a starting place.
Support those engaged in sustaining and supporting equitable and accessible fisheries such as Coastal Communities Consulting or Alaska Marine Conservation Council. Both are non-profits actively supporting diverse ocean-dependent communities in Louisiana and Alaska.

Follow Ocean Strategies for more updates:

Spend time assessing the inequities in your fishery. How are you impacted by the inequities listed above? How are others impacted?
How the Inflation Reduction Act affects fisheries and coastal communities
President Biden signed the Inflation Reduction Act of 2022 into law on Aug. 16. The bill pledges $740 billion to effect a wide range of economic and environmental goals, including hundreds of billions for climate change programs.
The National Oceanic and Atmospheric Administration has until September 2026 to disseminate an additional $2.6 billion expenditure intended to help coastal communities, Tribal Governments and other entities improve coastal and marine habitats; prepare for extreme storms and address other climate-related needs; conduct marine fishery and mammal stock assessments; and fund projects that support natural resources in communities that depend on marine resources.
An additional $150 million over the same four-year span will help NOAA build and replace its facilities, piers, and fisheries labs. Another $20 million is earmarked for the agency to improve permitting, planning, and approval processes through the hiring and training of staff. It may also be used to improve community outreach and engagement, and to purchase new equipment and technical and scientific services.
The Environmental Protection Agency is tasked with $2.25 billion in funds and a mission to begin reduce emissions in domestic ports, including through rebates and grants for the purchase and installation of zero-emission port equipment and technology, as well as the development of climate action plans.
The bill also negates President Trump's executive orders that instated 10-year restrictions on offshore energy leasing off the coasts of North Carolina, South Carolina, Georgia, and Florida. The act opens U.S. territories for offshore wind development through the Bureau of Ocean Energy Management by expanding the definition of the term Outer Continental Shelf. However, it also ties offshore wind development to offshore oil and gas leasing prospects for the next 10 years. BOEM must offer at least 60 million acres for oil and gas leasing on the outer continental shelf in one year in order to offer offshore wind leasing in the following year.
Tracking imports and expanding monitoring of IUU fishing
As the comment period closes for the IUU Fishing Enforcement Act, U.S. Sens. Dan Sullivan (R-Alaska) and Sheldon Whitehouse (D-R.I.) introduced a new bill that would ban vessels from U.S. ports and waters if they are known to be involved in illegal fishing.
The Fighting Foreign Illegal Seafood Harvest (FISH) Act, introduced Aug. 25, targets foreign illegal, unreported, and unregulated fishing by creating a blacklist of vessels that have engaged in IUU fishing, bolstering the U.S. Coast Guard's enforcement capabilities, and advancing international and bilateral negotiations on international agreements and treaties with a maritime focus.
Read more from SeafoodSource here.
Protection measures for seafood imports have been the focus of multiple bills in the last year, including the Illegal Fishing and Forced Labor Prevention Act and The America COMPETES Act, both of which sought to expand the Seafood Import Monitoring Program. The program traces a suite of high-risk seafood species from their origin to entry into the domestic supply chain in an effort to stop IUU seafoods from entering the country. It was established in 2018 and is run by NOAA Fisheries.

Applications due: American Fisheries Advisory Committee
The federal American Fisheries Advisory Committee Act passed in May 2022 calls for the creation of a 22-member American Fisheries Advisory Committee that will make recommendations for Saltonstall-Kennedy priorities and grant award funding.
The committee will consist of three members from each of the six federal fishery regions, as well as four at-large members. Members will be selected so that the committee represents as many seafood species as practicable.
Applications must be submitted to NOAA Fisheries nmfs.afac.nominations@noaa.gov until Sept. 24, 2022.
Senate Appropriations Bill includes funding for the National Seafood Council
In late July, the Senate Appropriations BIlls were released and the Subcommittee on Commerce, Justice, Science, and Related Agencies 2023 Appropriations Bill includes funding for the National Seafood Council.
---
"The Committee recognizes the sustainability and important nutritional benefits of seafood consumption, and that promoting seafood on a national scale may lead to increased seafood consumption and a stronger seafood industry. Within 180 days from enactment of this act, the Committee directs NOAA to provide a report to the Committee detailing how the agency would facilitate a National Seafood Council through the Fisheries Promotion Fund (16 U.S.C. 4008) to support a comprehensive, nationwide seafood marketing and public education campaign."
---
This is a step in the right direction for seafood stakeholders, and follows a recommendation from NOAA's Marine Fisheries Advisory Committee (MAFAC) and efforts from the National Seafood Council Task Force, a group of seafood supply chain representatives working together to advocate for the National Seafood Council and National Seafood Marketing Campaign. In May of 2022 over 200 seafood community members sent a letter to Congress advocating for a national seafood promotion campaign.
Seafood industry stakeholders are encouraged to join: America's Seafood Campaign
The Campaign supports a continued endeavor to publicly elevate the numerous benefits from increased seafood consumption through a Congressionally funded seafood marketing campaign. Click the link above to learn more and lend your support.
Alaska picks Peltola; seat up for grabs again in November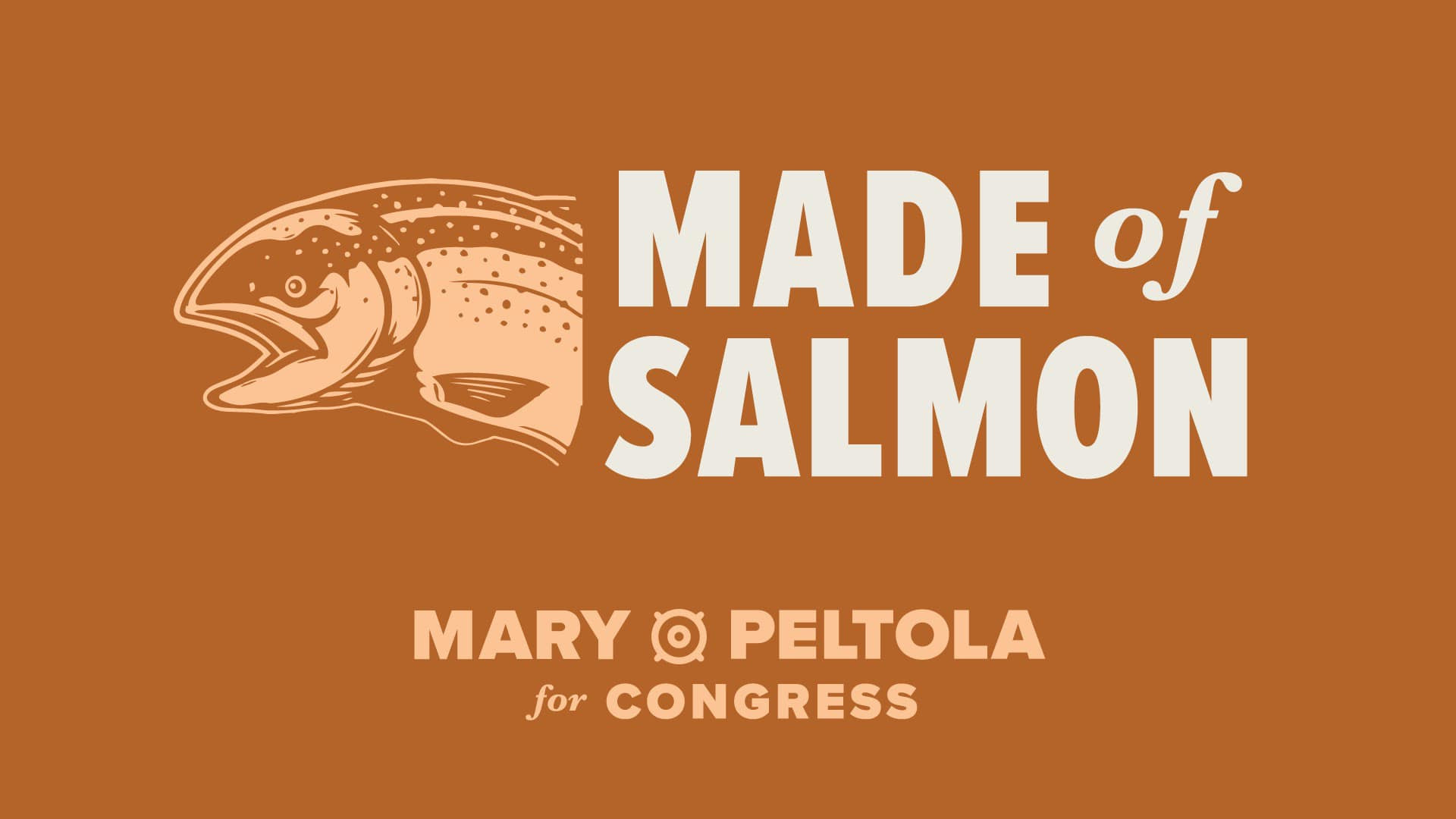 Alaska's special election for the late Rep. Don Young's Congressional seat was decided Aug. 31 by ranked-choice vote.
Mary Peltola, a Yup'ik fisheries manager and former state representative from Bethel, won after taking an early lead with nearly 40 percent of the vote. Former Alaska Gov. Sarah Palin was running second after in-person votes were counted with about 31 percent, and Nick Begich III tallied about 28 percent.
Ranked choice allows voters to rank their votes, so if no candidate takes at least 50 percent of the total, the last-place finisher is eliminated in that round of tallies. Voters who ranked that last-place candidate as their first choice have their second choice counted in the next tally until a candidate wins the majority. The system is also called instant run-off.
This campaign was Palin's first since she stepped down as Alaska's governor in 2009. Peltola's campaign focused on local issues, including the need to address declining salmon returns.
Young championed federal fisheries legislation. The loss of his vote and voice in Congress left the latest Magnuson-Stevens Act reauthorization on the table.
Peltola will fulfill the remainder of Young's term, which ends in January 2023. The midterm election in November will decide who holds the seat for the next two years. Peltola, Palin and Begich are all expected to be on the ballot for that election, as well.
SEAFOOD SUPPLY CHAIN
Pebble Mine comments come to a close
The Environmental Protection Agency published proposed Clean Water Act protections for Alaska's Bristol Bay watershed on May 26.
The proposed determination, published in the Federal Register, came with a public comment period that was extended to September 6.
Businesses for Bristol Bay has been working on a business sign-on letter that includes more than 450 companies to date, including Yeti Coolers, Publix Super Markets, Patagonia and the Seattle Restaurant Alliance. The letter is expected to be delivered to the Environmental Protection Agency soon. Stay tuned for more!
In the meantime, check out our Ocean Pulse blog, "Equity and environmental justice in Bristol Bay."
Join partners and members of the business sector and sign on with Businesses for Bristol Bay to tell the EPA to protect the Bristol Bay watershed from Pebble Mine.
Alaska CARES Act Round 2 funding application period now open
Alaska's round 2 CARES Act relief application period is now open. This is an important opportunity for fishermen and seafood processors to access Covid-19 relief funds for business operations. The application deadline is October 31, 2022.
Round 2 for Washington, which includes non-resident fishermen, is also open with a deadline of October 14, 2022.
More information can be found on the Pacific States Marine Fisheries Commission website.
TEAM OCEAN STRATEGIES UPDATES
Ocean Strategies Principal Brett Veerhusen and Senior Consultant Jessica Hathaway attended the National Working Waterfront Network conference in Boston in July. The trip included a visit to Island Creek Oyster Farm and hatchery in Duxbury, Mass. The company and site is home to Duxbury Bay's first oyster company, which now ranks among 25 in the bay alone. It is also one of just two hatcheries in the state, but the only one with its own algae lab — food for the seed crop.  The hatchery lab crew spawns tens of millions of seed oysters annually.Veerhusen also presented findings of an aquaculture stakeholder series with Meridian Institute at the conference. 
In July, Hathaway was a guest on the Fishing Forward Podcast with Hannah Harrison, speaking on the topic of Crew, Aging Fleets and Infrastructure.
Listen to episode 15, follow Fishing Forward, and check out the full series at SoundCloud.
SEAFOOD NEWS WE'RE TRACKING
The news, issues, and happenings we're following in the seafood world
Health and wellness in fisheries
There is a growing conversation among the importance of maintaining health and wellness in our commercial fisheries. The physical and mental demands required of commercial fishermen can be challenging to navigate, both on and off the water. Ocean Strategies appreciates the efforts being made to bring awareness to mental health in fisheries and the growing support organizations are providing to ensure the well-being of our fishing communities.
Here are some resources and information our team has  been following:
INDUSTRY LOGBOOK
Q & A with Clayward Tam
Ocean Strategies Principal Brett Veerhusen recently chatted with Clayward Tam, Director of Cooperative Fisheries Research for the Pacific Islands Fisheries Group, about what fisheries issues are rising to the top in the West Pacific, how they bring together different islands and voices in the management process, and what can be done to make fisheries management more adaptive, inclusive, and equitable.
Click here to watch and listen to the full interview with Clay Tam and Ocean Strategies Principal Brett Veerhusen and check out our Ocean Pulse blog, Ocean Strategies Interview with Clayward (Clay) Tam for the full interview transcript.
"Fishermen are on the water every single day. They can collect data and help forecast our fisheries. We can look back and forward to inform fisheries management." — Clay Tam
Clayward (Clay) Tam is a lifelong fisherman based in Kailua, Hawaii, whose passion and career has centered on sustaining Hawaii's fisheries for future generations. Clay is the Director of Cooperative Fisheries Research for the Pacific Islands Fisheries Group, a non-profit organization that supports cooperative fisheries research and community education and outreach in the U.S. Pacific Island Region.
He is a current member and chair of the Western Pacific Fisheries Management Council Advisory Panel and holds seats on advisory groups to the Western and Central Pacific Fisheries Commission and the Inter-American Tropical Tuna Commission. He is also a recently appointed member of NOAA's Marine Fisheries Advisory Committee (MAFAC).
Clay has been recognized by NOAA Fisheries and received the Sustainable Fisheries Leadership Award for Science, Research, and Technology while managing the highly successful Hawaii Division of Aquatic Resources volunteer Ulua Tagging Program.
STAY TUNED!
Upcoming reports from Ocean Strategies
September: WA Aqua Bites

October: Fall Aquaculture Policy Report

November: Fall Fisheries Policy Report